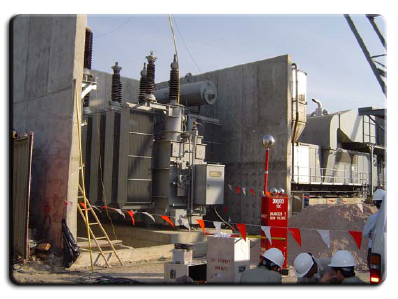 Transec Power Serivces Co.,Ltd.
< Since 1994>
Many of Transec's engineering staff have had prior experience on the staff of electrical utilities, particularly of EGAT. This board base of professional skills permits Transec to undertake multidisciplinary assignments with integrated teams of specialists drawn from its own staff.
.
.
Field of Services
Mission Statement
Transec provides a complete range of Power utility services of highest professional standards Transec is totally committed to ensure Complete client satisfaction Transec, by being totally committed to quality, has an Expanding reputation for excellence Transec provides quality services in the following engineering disciplines.
Substation Engineering and Construction
Site selection and survey
Conceptual design and layouts
Detailed design of various components including associated facilities such as lighting and power system, sanitary system, fire protection system, etc.
Equipment selection
Switchyard and site design
Substation grounding system design
Control and protection system design
Communication system design
Substation computerized control system design
Substation renovation techniques
Site / factory acceptance test
Substation building design
HV-MV equipment foundation and structure design
Water supply system
Road, gate and fence design
Cable trench / tray, tunnel, man-hole, hand-hole, duct-bank design
Site preparation
Drainage and sump system
Background And Organization
Electrical Engineering
• Lighting system for industrial buildings, commercial complexes, sport
complexes, etc.
• Control system
• Communication system
• Emergency power system
• Fire protection system
• Energy preservation
Substation Equipment Installation, Testing and Commissioning
• Installation of outdoor and indoor substation equipment including GIS
• On site testing of high voltage equipment and control and protection
system
Construction Supervision
• On site inspection and supervision
• General contract administration
Drafting
• Computer aided drafting
• Manual drafting
Quality Assurance
Transec has recognized the need for the Total Quality Management (TQM) and
trying for rigorous Quality Assurance (QA) procedures in place to ensure that
its work will be of consistently high standard.